Worldwide Brotherhoods
First Period 1900-1950
The first "Adelphotis (Brotherhood) Karyaton – Arachoviton" in the new continent was founded March 25, 1901 in Chicago with president Nicholaos Kakaris and secretary Georgios Dimitroulas. However, the difficult conditions and the constant struggle for the improvement of everyday life, led to its abandonment and ultimate dissolution.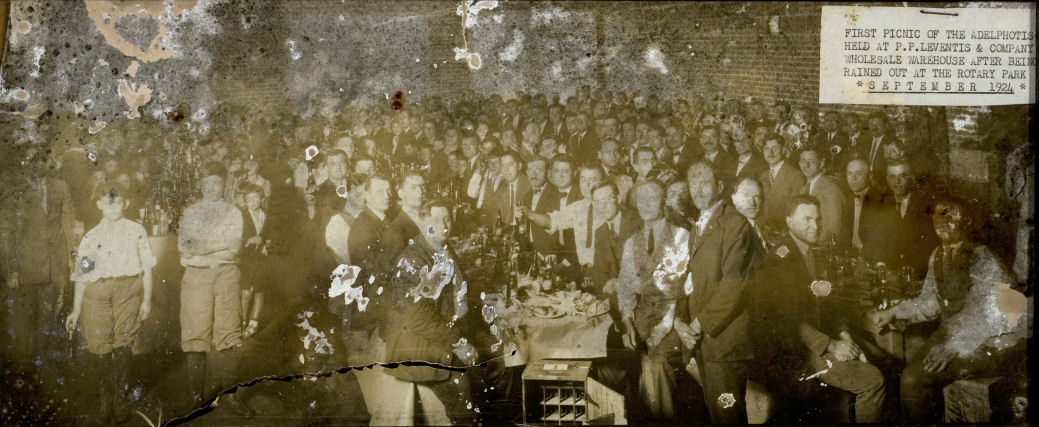 First picnic of the Adelphotis, on September 1921
The next and successful attempt was the establishment of the "Adelphotis Arachoviton - Karyae", which was founded by a group of compatriots who gathered in the city of Gastonia, North Carolina, USA. The purpose of this gathering on September 9, 1923 was the communication of expatriates in America, the establishing of regional offices in the cities were compatriots lived and the fundraising for birthplace needs. After World War II, this region was a migrant destination for compatriots, because of the existence of mining industry.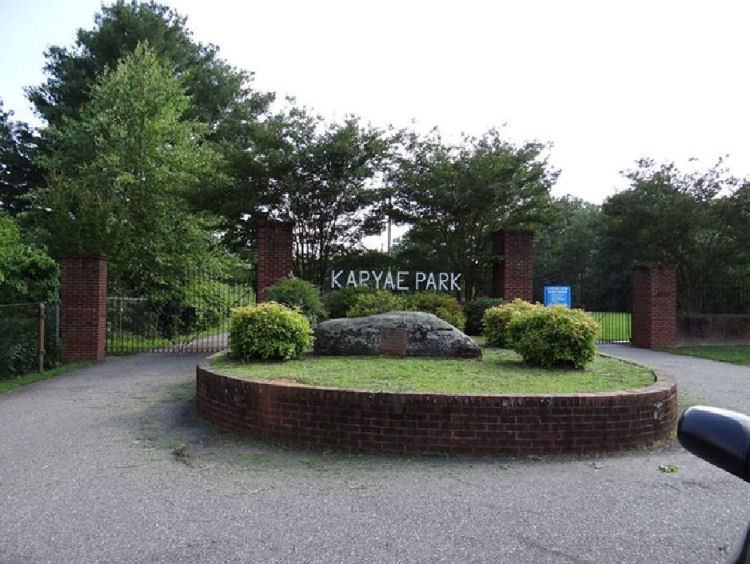 At first, money were collected for the construction of a water tank in Karyes. In 1928, an area was purchased in North Carolina and received the name "KARYAE PARK". On 14 October 1929, this area was transferred on the property of the Adelphotis and since then it is used for its events.
Below there is a record of participants' names in the Board of members:
Family Leventakis/Leventis: Paraskevas P. (president 1925-27 and 1929-33), Christos P. (president 1927-28 and 1940-52), Dimitrios A. and Dimitrios P.
Family Trakas: Andreas S. (president 1933-34), Nikolaos S., Michael S. (president 1935-37), Christos G.and Vasileios A.
Family Kerchoulas: Georgios N., Athanasios I., Anastasios A, Panagiotis K. and Panagiotis Th.
Family Pitsios: Epameinondas Ath. (president 1928-29), Emmanouel and Ioannis S.
Family Karygiannis: Mathaios D. (president 1937-40) and Dimitros M.
Family Kakkaris: Nikolaos D. (president 1934-35) and Dimitrios G.
Family Athanailos: Georgios P.and Ioannis P.
Family Kaperonis: Konstantinos N. and Konstantinos D.
Family Kastanas: Dimitrios N. and Georgios N.
Family Stathakis: Athanasios P. and Ioannis Gr.
Family Kopsiaftis: Anastasios G. and Sarantos G.
As well as: Andreas S. Papastavridis (president 1923-25), Paraskevas I. Meidanis, Dimitrios P. Dionisopoulos, Nikolaos I.  Papadogiannis, Georgios N. Charakas, Georgios A. Agglezis, Georgios I. Meleches, Panagiotis I. Kontalonis, Georgios D. Machairas, Georgios K. Kostalas, Georgios P. Diamantouros, Nikolaos I. Koutsogeorgas, Nikolaos I. Manos, Georgios Christofilis, Konstantinos S. Mentis and Nikolaos Gavaris.
The Brotherhood operated until 1950 as the sole bearer of compatriots in North America. As indicated in the "Golden Bible of KARYES" of 1927, in "FEAST ARCHIVE OF ADELFOTIS" of 1937 and "KARYATIKA" of 1952 the Brotherhood operating local branches. Examples:
On February 3rd, 1924 founded the local branch in Toronto, Ontario, Canada.

Compatriots with significant contribution were: Konstantinos G. Voukidis (first president), Anastasios G. Kopsiaftis, Antonios G. Karigiannis (president in 1937), Panagiotis P. Kopsiaftis, Paraskevas P. Mentavlos, Nikolaos. G. Matalas, Nikolaos K. Kerchoulas and Dimitrios Th. and Konstantinos I. Karavas.

In the summer of 1924 founded the local branch of Chicago in Illinois, U.S.A.

Main contributors were Ioannis G. Lambrakis (first president), Konstantinos Chr. Voukides (second president), as well as Nikolaos I. Papadogiannis, Dimitrios and James I. Meleches, Ioannis D. and Ioannis A. Ardamis, Christos and James G. Leventakis, Georgios Mavraeides, Paraskevas G. Pitsios, Georgios E. Meleches and G. Voulgaris.

On 22 April 1926 founded the local branch in Boston, Massachusetts, U.S.A.

With the initiative of Ioannis P. Karigiannis, Dimitrios Devekos and Konstantinos Leventakis. Until the II World War appear also to be involved: Georgios I. Vastis (president in 1927), Chr. Trakas (president in 1930) and Ilias G. Leventakis, Theodoros G. Th. Kontalonis and Ioannis Th. Machairas. After the war, although there are not enough members to maintain the branch, a temporary committee is created by Theodoros Il. Leventakis, Chr. I. Trakas and Nikolaos P. Karigiannis.

On 23 November 1926 founded the local branch in the city of New York, U.S.A.

Until the Second World War appear to be involved: Anastasios Agglezis (president 1926-28), Paraskevas P. Koutsogiorgas (president 1930) and Aristotelis S, Panagiotis E. and Nikolaos E. Kerchoulas,  Nikolaos Z. and Georgios Z.  Leventakis, Panagiotis G. Koutsogiorgas, Konstantinos P. Chondropoulos, Konstantinos G.  Mentis, Ioannis N. Agglezis and Georgios Liapakos.
However, because the city of New York had the character of "host city", operating as a gateway to the rest of North America, the local branch shortly after the II World War was merged with that of Boston, creating a local branch NEW YORK-NEW ENGLAND with their postwar representatives Pan. Th. Skiouris and Konstantinos I. Koutsogiorgas.
Moreover, after the war given the dispersion of compatriots in the various U.S. states and provinces of Canada, delegations of the Adelfotis were created and in the Western States, with representatives Panagiotis Chr. Pitsios, Panagiotis N. Kaperonis, George D. Machairas, Theodore P. Kerchoulas and Panagiotis G. Prekezes.
By the end of World War II,the so-called "Relief Committees" were created aiming to send money and food to the affected population of the destroyed by the Nazi Occupation Troops village of Karyes.
Indicative, according to the Adelfotis' census of 1950, there were compatriots in the following U.S. states: South Carolina 287, North Carolina 271, California 137, Illinois 135, Indiana 65, Wisconsin 43, Missouri 33, Utah 33, Virginia 24, Florida 20, Texas 13, Wyoming 12, Colorado 12, Michigan 11, Washington 10, New Mexico 8, Louisiana 6, Arizona 5, Idaho 3, Montana 2, Kentucky 2, Iowa 1 and Alaska 1 (total 1,131). Moreover, according the same inventory in Canada there were 124 compatriots in the province of Ontario, 8 in that of Quebec and one in British Colombia (total 133).
Second Period 1950-2010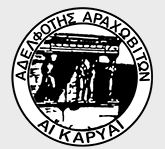 In the early 1950s the large wave of immigration of the Greeks, this time to the Northern States of industry and services, forces the establishment of independent brotherhoods in various cities. So on October 31st, 1956, the "ADELFOTIS ARACHOVITON OF CHICAGO" was established, while on March 30th, 1958, the "ADELFOTIS ARACHOVITON OF NEW YORK - NEW ENGLAND" was established in Boston, which officially starts on 22rd November 1959. Finally, in 1963 the association "ARACHOVITON OF TORONTO" was founded.
The most important task of expatriate brotherhoods was the coordination and fundraising for the project of regeneration of Karyes during thw early postwar decades. All the current infrastructure and landscaping enjoyed by residents and visitors in Karyes were made due of assistance (financial, organizational and technical) of those brotherhoods. Typical examples are the Central Square, the Iroon and the imposing Church of Apostle Andreas, the Sports Centre, the watertank in "Desi" location, the furrow watering system, the Primary School, the Iliopouleio Orologio (Clock), the Monument of Caryatids etc. At the same time, the Adelfotis sent considerable sums to strengthen the Y.C.A., Dairy Producers and Farmers Unions, the "Association of Karyes' women and girls" (with the intention of relieving the poor families) etc.
In addition, the fraternity in Gastonia creates a Foundation in order to finance the studies of Karyes youth in Greece and in America. Hundreds of youths have since benefited from its services and became brilliant scientists. According to the "Karyatika" (ed. 1972) the biggest benefactor was Georgios Gr. Karygiannis along with his wife Fotini I. Karygiannis-Goudes. Note that on April 4, 1965 in Charlotte, North Carolina, the "Association of Karyes' women and girls" was founded.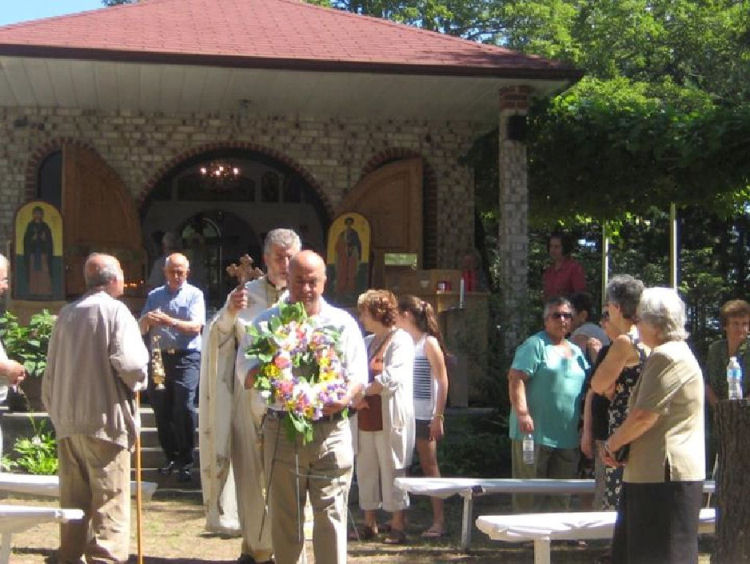 . Specifically, in 1946, the Heroon of killed non-combatants heroes was erected in Karyes, in 1956, the Community Building was erected, in 1957, the KARYAE park is expanded with 3 additional acres and a new entrance is constructed, in 1958, the Barbeque stand is constructed, in 1967, the new Ballroom is constructed and in early 1970, the Church Assumption.
In 1980, the Association of Toronto in its turn acquires and forms its own land by creating the "KARYAE VILLAGE" in an area of about 212 acres in Sunnydale of Ontario.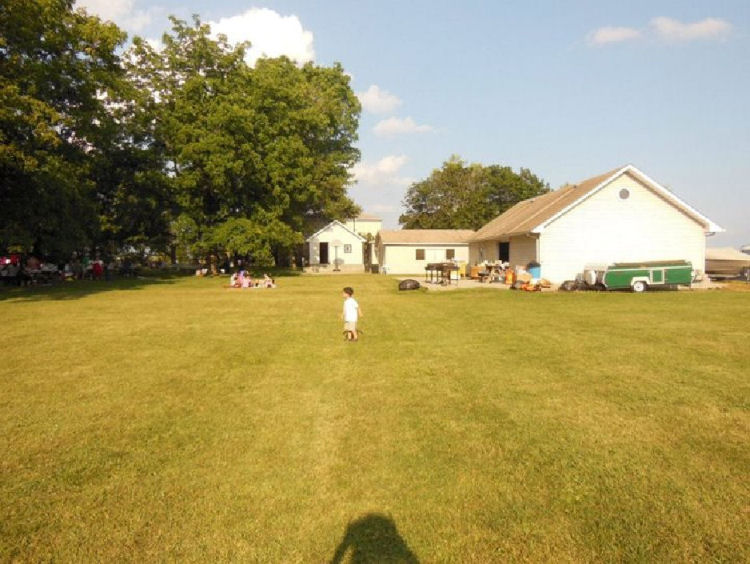 Today it includes the Heroon of killed non-combatants compatriots, a Grill, a Refreshment room, A Dance floor, a Playground and the Church of Agia Paraskevi and Agios Panteleimon.
Finally, the Association of Chicago organises its own annual summer gathering, initially in Zion National Park in Illinois and since 1984 in "KARYAE PARK" in Salem, Wisconsin. The adelfotis of Chicago is now the third brotherhood, after that of Gastonia and Toronto that acquired its own private park. It is the only of the three that has the form of the farm.
Participants and Board Members of Brotherhoods (1950-2010)
According to the "Karyatika" issue of 1972 and the newspaper "KARYES" of the period from 1986 to 2000, we should mention the occasionally participants and Board Members in those Brotherhoods.
In the Adelfotis of Gastonia, many that are mentioned in the previous section, attended the adelfotis and Georgios N. Charakas and Georgios P. Diamantouros served as presidents, the first from 1959 to 1961 and the second from 1965 to 1967. In this section, we mention those that are present since 1950:
Family Machairas, Peter G., Gas St., Elefterios G., Ioannis P. and Paraskevas I.
Family Karigiannis, James Mathaiou, Gas N., Nikolaos K. (president 1996-97), Ioannis N. and Ioannis P.
Family Stathakis, Peter G., James G., Ioannis and Charis
Family Kaperonis, Nikolaos D. (president 1954-56 and 1961-62) Dimitrios G., Panagiotis I. and Ioannis
Family Koutsogiorgas, Ioannis P., Peter G., Panagiotis I., Georgios I. (president 1993-95)
Family Charakas: Peter N., Peter A., Georgios N. (president 1959-61) and Gas N. (president 1967-68)
Family Kaperonis, Nikolaos D. (president 1954-56 and 1961-62) Dimitrios G., Panagiotis I. and Ioannis
Family Vastis, Andreas N., Georgios N., Paraskevas I. and Sotirios I.
Family Kopsiaftis, Sotirios Chr. (president 1970-72), Vasileios G., Panagiotis I. and Ioannis P.
Family Poulokefalos, Georgios P., Dimitrios A. and Demosthenes
Family Mavraeidis, Eftratios P., Theotokis and Panagiotis E.
Family Kerchoulas, Gas G., Theodoros G. and Panagiotis G.
Family Trakas, Georgios A. (president 1969-70), Georgios S. and Paraskevas N.
Family Diamantouros, Peter P., Peter N. and Georgios P. (president 1965-67)
Family Leventis, Andreas P., Paraskevas P. (Jr) and Peter A.
Family Chondros/Chondropoulos, Aggelos P. and John P.
Family Meintanis, Gas G. and Nikolaos P.
Family Diantzikis, Evaggelos G. and Vasileios E.
Family Voukides, Andreas P. and Konstantinos,
as well as, Andreas S. and Tom M. Pappas, Georgios Andriopoulos (president 1991-92), Michael D. Meleches (president 1963-64), Dimitrios N. Kastanas (president 1986-88), Peter A. Papapitsios (president 1956-58), Ioannis D. Kapilios, Konstantinos Christofilis, Georgios Th. Kakkaris, James Dionisopoulos, Gas G. Dimitriadis, Georgios N. Mentavlos, Peter S. Zouras, Andreas N. Kolovos, Ioannis Kir. Skiouris, Dimitrios Leventis and Ilias I. Siarris.
The ladies club in Charlotte (with * served as presidents):
from Family Koutsogiorgas, Paraskevi H., Panagiota P., Anastasia (Tasia) I. and Paraskevi P.,
from Family Kaperonis, Paraskevi N.*, Evagellia (Litsa) D.* and Aggeliki (Kiki)
from Family Karigiannis, Kalliope (Pista) K.*, Maria S. and Eleni,
from Family Kopsiafti, Anthoula N. and Haido G.,
from Family Vastis, Niki and Matoula,
as well as, Litsa S.* Voukides, Varvara P. Leventis, Maria G. Kakkaris, Kalliope (Pitsa) G. Diantzikis, Haido P. Meintanis, Panagiota A. Dima, Dimitra (Toula) P. Matrapilia, P. Machairas, Elli Charakas, Maria Giannika, Loula Kouvaris and Christina Diamantouros.
In Toronto:
from Family Diamantouros, Panagiotis E. (second president), Paraskevas Pant. (president 1989-91), Ioannis G. (president  1994-95), Dimitrios P., Panteleimon Par., Dimitrios G.  and Eftimios G.
from Family Thedorakakis, Maria D., Charalambos, Aggeliki, Georgios, Ioannis N. and Ioannis Char.
from Family Machairas, Panagiotis, Georgios, Theodoros D. and Vasileios G.
as well as, Georgios V. (first president) and Sofia G. Skiouris,  Perry and Konstantinos D. (fourth president) Panousis, Sotirios Th. and Ioannis And. (third president) Karavos, Panagiotis Sot. and Konstantinos S. Varlokostas, Georgios D. and Triantafillia G. Velonis, Antonios and Sotirios D. Demas, Charalambos Meleches, (president 1987-91), Andreas Kosma Lazarides (president 1997-2000), Diamantis Par. Pitsios, Pavlos K. Katsetos, Nikolaos I. Karkalatos, Panagiotis N. Voukides, (fifth president), Nikolaos K. Kerchoulas, Theotokis Mavraeides and Georgios Karigiannis.
In adelfotis of New York-New England (with * served as presidents):
from Family Vastis Andreas G.*, Georgios G.*, Georgios And.*, Panagiotis G., Vasiliki G. and Ioannis G.,
from Family Diantzikis Lykourgos Sot.*, Georgios S. and Dimitrios S.,
from Family Trakas Christos I.*, Ioannis Chr., and Patricia,
from Family Leventis Theodoros El.* and Garyfallia,
from Family Matalas Dimitrios G.* and Georgios D.,
as well as, Panagiotis G.* Leventakis, Ioannis Chr. Charakas, Maria Tigou, Panagiotis D. Karigiannis, Georgios El. Kopsiaftis, Dimitris Tagis, Dimitrios P. Machairas, Antonios I. Voukides and Theodoros G. Kontalonis.
Finally, according to a/2005 Scrapbook of fraternity in Chicago in board of members participated:
from Family Vastis, Sotirios N. (president 1957-59), Sam (president 1984-86), Ioannis, Christos A. (president 1992-96 and 2004-06),  Athina, Nikolaos (president 2000-02) and Gas,
from Family Voukides, Andreas P., Konstantinos, Dimitrios, Georgios, Vasileios and Andreas (president 1996-98),
from Family Skioutris, Panagiotis I. (president 1963-64), Panagiotis G., Oddyseas, Peter and Eleni (president 2002-4),
from Family Dalakouras, Nikolaos, Dimitrios, Christos, Peter G. and Konstantina (Ntina),
from Family Kerchoulas, Panagiotis K. (temporary president 1957), Evagellos P. and Georgios P., Andreas,
from Family Koutsogiorgas, Nikolaos Ath., Vasileios D. (president 1969-71), Eftration Ath. and Konstantinos D.,
from Family Thedorakakis, Leonidas, Dimitrios, Sarantos and Andreas,
from Family Diantzikis, Athanasios, Pete, Leonidas and Maria,
from Family Trakas, Nikolaos, Peter and Sam J.,
from Family Giannopoulou, Panagiotis I. (president 1964-65), Filippos and Peter G. (president 1988-92),
from Family Karagiannis, Evagelos I. and Aggelos and Peter,
from Family Seymeni, James, Christos and Elisavet,
as well as, Michael N. (president 1959-1963) and Michael L. Kontalonis, Ioannis A. and Evaggelos P. Charakas, Konstantinos A. and Nikolaos A. Karigiannis, Georgios El. and Dimitrios Chondros, Panagiotis Par. and Georgios Panousis, Georgios P. and Panagiotis N. Kolovos, Andreas P. (president 1974-76, 1980-84) and Pericles P. Matalas, Konstantinos P. and Thotakis D. Diamantouros, A. and Zacharias Chr. Ntouvlis, James G. and Nikolaos G. (president 1965-69, 1971-74) Kaperonis, Vasileios and Pete Kakkaris, Michael and Ioannis (president 1998-2000) Chasapis, Pete, James Chondropoulos, Peter and Paraskevi (Voula) Kakkaris, James and Kalliope Siarris, Georgios and Eleni Kastana, Andreas and James Poulokefalos, Konstantinos Tourogiannis, Georgios I. Christopoulos, Sarantos St. Machairas, Konstantinos Par. Pitsios, Stefanos Mikos, Theodoros Spanos, Georgios (president 1976-80) Stathakis, Christos Christopoulos, Ioannis Zouras, Chaido Karitsiotis, Panagiotis (president 1986-88) Kopsiaftis, Eleni Votsikakis, Peter Matafatsos, Efi Papamichael, Nikolaos Kalantzis, Olga Rizakou, Theodoros Kollatzianos, James Karafotias and Aleka Varla.
Australia
The migration of compatriots in faraway continent of Oceania began much later than that of America. It began in the 1950s and more systematically in the 1960s, several Karyates chose this place to settle down and build a new life without forgetting their homeland.
Thus, in 1966 the first club of compatriots was established in Melbourne by the name "O KARYATIS". In early 1990s a new effort to revive the Association begins from the second-generation of compatriots who take over. According to the newspaper "KARYES", in the period 1987-2010, as members of the Board are being referred (with the * Former presidents):
From the Rozanitis family: Foteini Pan.(*), Athanasios Pan and Panagiotis Ath.
From the Andrianakis family: Nikolaos Kur., Kyriakos N. and Aggeliki N.
From theTourogiannis family: Dimitrios K. and Christoforos K.(*).
From the Zafeirakos family: Ioannis Pan. and Theodora Pan.
From the Darmos family: Panagiotis Andr.(*) And Lela Darmos-Kordalis.
From the Kerchoulas family:, Konstantinos and Maria,
 as well as Nikolaos Kur. Andrianakis, Panagiotis Dim. Theodorakakis, Ioannis Pan. Zafeirakos, Dimitrios G. Dimakis, Nicholas Pan. Voukidis, Theodoros And. Poulokefalos, Ioannis Il. Hasapis, Kapanikolou Maria, Maria Bakaseta and Dimitra Labr. Lagadinou.
At the same period, a corresponding Karyates Club was established in Sydney ("Al KARYAI"). According to the newspaper "KARYES", in the period 1987-2010, as members of the Board are being referred (with the * Former presidents):
From the family Poulokefalos: Spilios E., Panagiotis E., Anastasios E. (*) and Paraskevi Pan. and Demetrios Katsinas (husband. of Kassiani Poulokefalou).
From the family Theodorakakis: Christos Kon., Konstantinos Chr., Dimitrios Chr., Panagiotis Chr. and Asimo (Sylva) Koya-Theodorakakis.
From the family Papoulias: Christos K., Christos I., Dimitrios K., Konstantinos Chr. and Ioannis Chr.
From the family Kokokios: Georgia A., Alexandros, Georgios Chr. (*) and Konstantinos Chr.
From the family Kardaras: Evangelos V., Vasileios Ev. and Venetia Ev. Kardaras-Nikolis (*).
From family Voukidis: Dimitrios Chr. (*), Dimos Chr. and Konstantinos Chr. (*) .
From the family Zafeirakos: Aristotelis K. (*) and Athi.
From the family Kolovos: Nikolaos I., And Dimitrios I.
These Associations and Brotherhoods, with their annual winter and summer gatherings, keep alive the contact among their members and continuously donate amounts to the various needs of Karyes.